Discography
1989 Seitsmes Meel "Seitsmes Meel" MC
1990 Marju Länik "Ma uurin valgust" LP Melodija
1992 Urmas Alender "Vana kloun" MC
1993 Tõnis Mägi & 777 "Hüüdja hääl" CD Trio
1993 Saxappeal Band "Made in" MC Anthony Vincent Records
1994 Saxappeal Band "Oh Lady be Cool" CD Fugata ltd. Saxland
1994 Ultima Thule "Tuulatud Thule" CD/MC Is Records
1996 Henry Laks "Hoia mu poole" CD Seafarm SEACD 106
1998 Ultima Thule + keelpillikvartett CD Elwood
1998 Siiri Sisask / Ultima Thule "Mis maa see on" CD Fugata Records
2000 Henry Laks "Läbi aja" CD GrillFest Rec
2002 Ultima Thule "Kogutud teosed" CD (3) Elwood
2005 Ultima Thule "Ingel ja suli" CD Ultima Thule
2006 House of Games "Rise and Shine" CD RAM Music
2007 Ultima Thule + Tõnis Mägi + keelpillikvartett "Ultima Thule Rock Cafes" DVD Ultima Thule,Centrona
2007 Henry Laks "Märk" CD Elwood
2010 Ultima Thule "Jälgede Jälgedes" CD Ultima Thule
2013 Kalle Vilpuu "Silver Lining" CD Guitar Laboratory
2014 Indrek Patte "Thank and Share" Strangiato Records
Awards
2015 Dutch radio station T-on-Air selected Silver Lining as album of the month (August)
2015 Dutch radio station T-on-Air selected Silver Lining as album of the year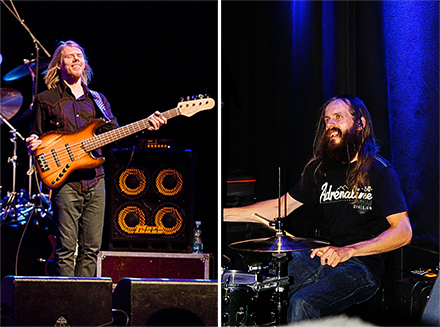 Bros Henno Kelp and Andrus Lillepea.
Biography
I was born in the Estonian miners' town of Kohtla-Järve on July 24th, 1963. I started on the path of music playing drums in a school band at the 1st Kohtla-Järve High School. I soon switched to the guitar, however, due to lack of serious interest in the drums.
I took a deeper interest in playing the guitar rather late, when I was 17. After I graduated from the 1st Kohtla-Järve High School, I spent a little time working as a stage hand at the Pärnu theater. At the same time I took private guitar lessons from local guitar maker and pedagogue Igor Klimenkov. I also took private lessons in music theory.
In 1983, I went to study classical guitar at the Georg Ots Tallinn Music School, all the while feeling a growing interest in rock music. Half way through my studies I switched from classical to electric guitar and continued to pursue my musical education in the jazz and pop music department. In hindsight I can say that I'm thankful I also studied classical guitar as it gave me my fingering technique and my tone. While I was studying at the G. Ots school, I won the Uuno Naissoo musical creation competition two years in a row – my interest in composing music was also born in that school.
During my studies I was already playing for rock band Seitsmes Meel (1985-1990) that after a while became one of the hottest bands in the Estonia of that time. Seitsmes Meel was also the first band that took us out of Estonia, as we played at Finland's biggest rock festival "Provinssi-rock" in 1989.
After Seitsmes Meel broke apart, I played for some time in the band of one of Estonia's most important male singers Tõnis Mägi, 777, that eventually split after Mägi spent a few years away from Estonia.
Then, in 1991, I was invited to play in Estonia's leading rock band Ultima Thule, where I remain active to this day. During my time with Ultima Thule, I've had the opportunity to simultaneously play in several important bands – Marju Länik's band, with whom we recorded an LP and toured Russia, the Saxappeal Band with which we visited several music festivals, like the 1994 Bergen Nattjazz in Norway and the Adolphe Sax Festival in Dinant, Belgium, as well as several European jazz clubs. Shorter projects included the Pantokraator, Data, Underwater, Kuller and many others. I also played in the legendary Gunnar Graps Magnetic Band, I was forced to leave when the bands' venues started started falling on the same times.
I joined hard rock band House of Games in 2003, with which we recorded the album "Rise and Shine" (2007) in Finland's top-ranking Seawolf Studios and that was favorably received by foreign critics. House of Games took us to USA, UK, Finnish clubs, Germany, Belgium, Poland, Hungary, Latvia, Sweden and the Czech Republic. We had the good fortune of touring as the warmup for US group W.A.S.P. in the United Kingdom and continental Europe. We were featured on the playlists of Western stations and in the Classic Rock and Metal Hammer magazines.
After leaving HoG, I started composing and recording my own music that culminated in 2013 in my first solo album "Silver Lining".
In the present day I continue to play for Ultima Thule, with which we have played at Sweden's biggest rock festival Huldsfret, in USA, Canada, France, Finland, Latvia, Russia, Portugal, Egypt, Belgium, Luxembourg and Germany. Seitsmes Meel is back together after a 23 year break, we are working on new material and giving concerts. I'm also planning a solo project where the music will be accompanied by 3D art background visuals.
Solo album "Silver Lining" was selected as album of the month in August 2015 by a Dutch radio station T-on-Air.
Solo album "Silver Lining" was selected as album of the year in 2015 by a Dutch radio station T-on-Air.